Recognized by G.I. Jobs magazine as a military-friendly employer, FirstEnergy proudly employs nearly 1,000 past and present service members of the United States' armed forces.
We believe military veterans possess unique skills and experiences that make them highly qualified candidates for a number of opportunities with our company. Learn more.
We reward the skills and discipline developed in the service through a total rewards philosophy. Learn more about our active duty benefits.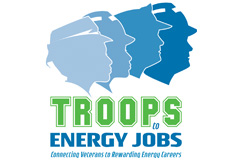 To learn how to prepare for exciting careers in the field of energy, visit the Troops to Energy Jobs website.*
*By clicking these links you are leaving the FirstEnergy website, and entering a website maintained by a third party. That party is entirely responsible for the content of its website.