First, check your neighbors to see if their power is out, too, or if only your location is affected.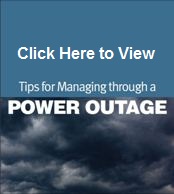 If Only Your Lights are Out

If Yours and Your Neighbors' Lights are Out

Report your outage. We may not know that your power is out.

Call our toll-free, 24-hour Outage Reporting Line, 1-888-LIGHTSS (1-888-544-4877), or
Report your outage online, or
Report your outage via text message.
Text REG to 544487 (LIGHTS) to get started.

Follow the other steps to take during an outage.
Calling Our Outage Assistance Number
Customers should call 1-888-LIGHTSS (1-888-544-4877).
Follow the recorded prompts to let us know your power is out. We will respond as soon as possible.
Customers with a communication disability can report an outage using the appropriate TTY/TDD relay service, our online form, or text messaging.
Please report a downed wire only if you actually see one at your location. Do not assume that because your power is out there must be a wire down somewhere. For more information, see our Frequently Asked Questions. Remember to keep a safe distance from any downed wire.
For Outage Updates
You can obtain outage updates in the following ways:
Learn more about text messaging.
Still Need Help?
Contact us with your questions.