Plug-in Electric Vehicles
Plug-in Electric Vehicles (PEVs)*, which are growing in popularity, enable drivers to take advantage of a new vehicle technology that can save energy and money, while having a positive impact on our environment and economy. Powered by electricity, these vehicles are recharged at home* or at public charging stations at a fraction of the current price of gasoline. In addition, the widespread use of PEVs offers a step forward in clean transportation and energy independence.


Energy Independence
Increased use of PEVs provides energy independence as we reduce our nation's need to import oil to fuel gasoline-powered vehicles.
FirstEnergy has been involved in a number of research initiatives with the Electric Power Research Institute (EPRI) and others to ensure that this vehicle technology will be compatible with the electric grid.

Why Drive a PEV?
Economically Smart
While the initial cost of purchasing a PEV may be higher than gasoline-fueled vehicles, PEVs operate at a lower fuel cost, averaging between $1.00 to $1.50 per gallon* on an equivalent basis to conventional vehicles.
Environmentally Friendly
PEVs are lower in emissions than gasoline-powered vehicles, which helps reduce the amount of gases – such as carbon dioxide, nitrogen oxides and sulfur oxides – being released into the environment.
Electric Vehicle Programs
Click your state for more information about programs and incentives:
---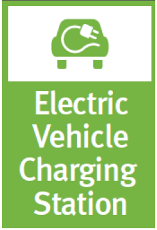 Click here to locate electric vehicle charging stations near you.*
Electric Vehicles in Action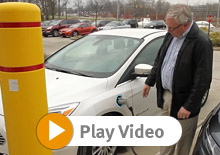 FirstEnergy and Clean Fuels Ohio partnered with the city of Akron to install electric vehicle charging stations at company facilities. View this video to learn more, and hear from employees who use electric cars for their daily commute.
Want to learn more?
Follow the links below for more information:
*By clicking this link you are leaving the FirstEnergy website and entering a website operated by a third party. The third party is entirely responsible for the content of their website.