Penelec Adds New Line and Substation Employees from Power Systems Institute Training Program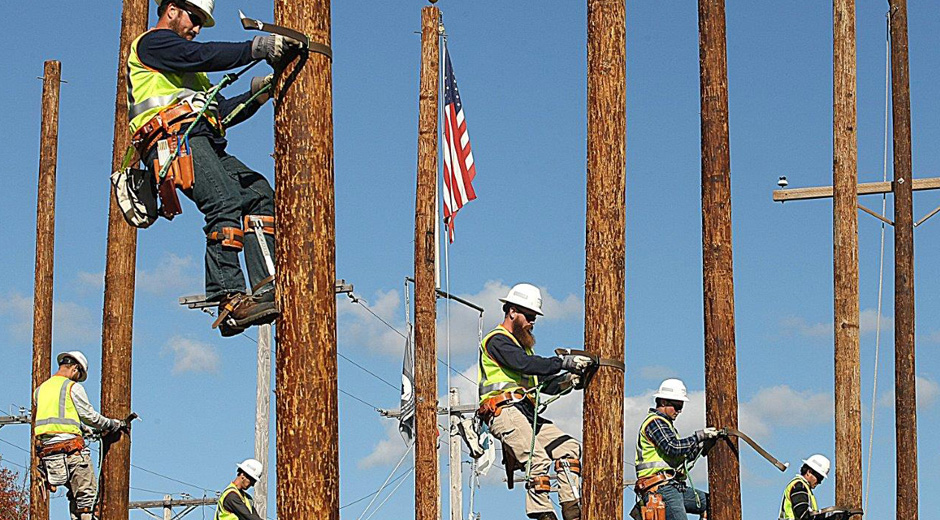 READING, Pa., June 14, 2018 -- Pennsylvania Electric Company, a subsidiary of FirstEnergy Corp. (NYSE: FE), has hired 30 graduates of the company's utility worker training program as part of its ongoing efforts to enhance reliability for customers in its western and central Pennsylvania service areas.
The new employees include 24 line workers who are recent graduates of the company's Power Systems Institute (PSI), a utility worker training partnership with Edinboro University's Porecco College in Erie, Pa. In addition, there are six new substation electricians who graduated from a similar PSI program at Penn Highlands Community College in Johnstown, Pa.
"The PSI program is an effective pipeline for adding well-trained, highly skilled employees to our workforce," said Scott Wyman, regional president of Penelec. "By teaming with our veteran linemen and substation personnel, these new employees will help ensure safe and reliable service for our customers, now and in the future."
The new lines employees with their work location and hometowns are:
Indiana – Matthew Brundage, Columbus; Cody A. Hayes, Cochranton; Kelly D. McGowan, Stoneboro; Josiah Olson, Edinboro
Johnstown – Brian Capozziello, Erie; Trent Fox, Conneaut Lake
Oil City – Dustin Crum, Saegertown; Lucas Graham, Linesville; Lance Proctor, Union City; Joseph Zacherl, Fryburg
DuBois – Kyle Dunkle, Sigel; Nevin Jones, Saegertown; Kody Kondrlik, Corry
Montrose – David Gardner, Montrose; Nicholas Dunn, Towanda
Altoona – Kyle Grenz, Corry; Joshua Lindsay, North East; Joshua Twaroski, Erie
Erie – Jasen Jurkiewicz, Erie
Mansfield – Takoda Kelley, Granville Summit; Walker West, Granville Summit
Clearfield – Roger Kephart, Phillipsburg
Lewistown – Catlin Pondel, Corry
Towanda – Frankie Weiss, Jr, Wyalusing.
The new substation employees with their work location and hometowns are:
Altoona – Justin Gates, Windber; Joseph Noel, Tyrone
Lewistown – Patrick Graham, Indiana
Towanda – Derek Horton, Waverly, NY
Clearfield – William Rowles, Clearfield
Johnstown – Mark Woods, Erie.
PSI is an award-winning, two-year educational program originally developed by FirstEnergy in 2000 to help prepare the company's next generation of utility line and substation workers.
The PSI curriculum for lines employees requires two-and-a-half days each week spent at Porecco College completing academic course work, with the remainder of the week spent at a Penelec training facility in Erie. The PSI curriculum for substation employees requires a half week spent at Penn Highlands Community College completing academic course work, with the rest of the week spent at a FirstEnergy facility in Pennsylvania. All students focus on safe work practices and procedures in the electrical environment. The graduates earned an associate of applied science degree in Electric Utility Technology.
Since the program's inception, FirstEnergy has hired about 1,300 line and 420 substation personnel who completed PSI programs in Maryland, West Virginia, Ohio, Pennsylvania and New Jersey.
For information about how to enroll in the PSI program, call 1-800-829-6801, or go to www.firstenergycorp.com/psi.
Penelec serves approximately 600,000 customers in 31 Pennsylvania counties. Follow Penelec on Twitter @Penelec and on Facebook at www.facebook.com/PenelecElectric.
FirstEnergy is dedicated to safety, reliability and operational excellence. Its 10 electric distribution companies form one of the nation's largest investor-owned electric systems, serving customers in Ohio, Pennsylvania, New Jersey, West Virginia, Maryland and New York. The company's transmission subsidiaries operate more than 24,000 miles of transmission lines that connect the Midwest and Mid-Atlantic regions. Follow FirstEnergy on Twitter @FirstEnergyCorp or online at www.firstenergycorp.com.
Editor's Note: Photos of FirstEnergy's Power Systems Institute training program are available for download on Flickr.
CONTACT: News Media Contact: Scott Surgeoner, (610) 921-6785