New EV Charging Stations Available for Public Use at Rocky Gap Casino and Resort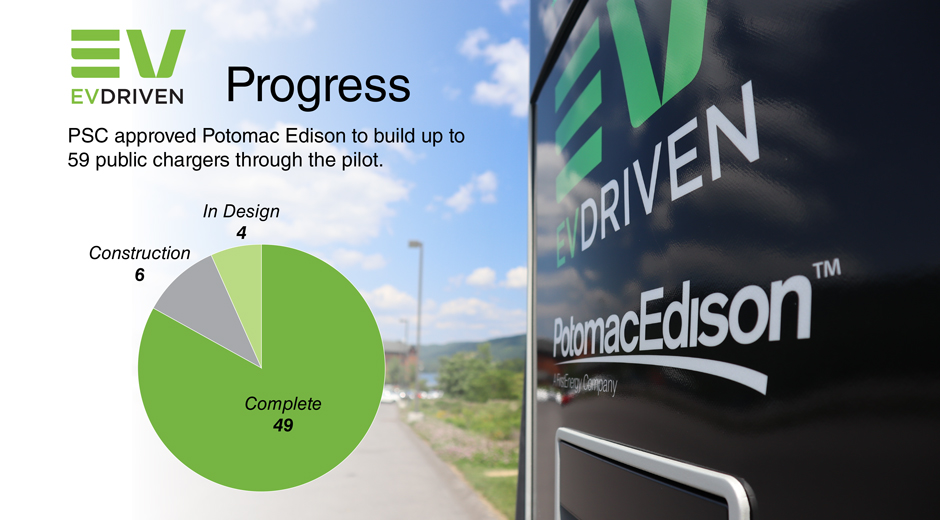 Download video and pictures of newly installed Potomac Edison EV chargers on Flickr.
WILLIAMSPORT, Md., Nov. 1, 2023 /PRNewswire/ -- FirstEnergy Corp. (NYSE: FE) subsidiary Potomac Edison has teamed with the Maryland Department of Natural Resources and Rocky Gap Casino and Resort to install two public EV charging stations at the facility located off Interstate 68 in Flintstone, Allegany County.
The project is part of Potomac Edison's EV Driven pilot program, approved by the Public Service Commission of Maryland in 2019, to help make EV ownership easier and more accessible throughout Maryland. To date, the company has successfully installed more than three-fourths of the total 59 charging stations, including 20 fast-charging stations, committed under EV Driven. For more information about Potomac Edison's EV Driven program, visit www.evdrivenpe.com.
Lindsey Wilkinson, director of Emerging Technology at FirstEnergy: "The Rocky Gap chargers are in a fantastic location to help us deliver on our commitment to make electric vehicle adoption more accessible, convenient and affordable in Maryland. Energizing the Rocky Gap charging stations undoubtedly enhances the public charging network and is one of many important steps in meeting the state's electrification goals."
Potomac Edison installed the two DC fast chargers on Rocky Gap State Park property, and customers pay for the electricity they use while charging their vehicle. While charging times are dependent on the vehicle's battery size and other factors, most EVs can get an 80% charge in approximately an hour using DC fast chargers.
Eric Barfield, director of facilities at Rocky Gap Casino and Resort: "Rocky Gap is committed to the EV movement and the charging infrastructure is very important to help support that movement. These charging stations are in a great location for people to stop between Hagerstown and Morgantown and have a meal, visit the casino and enjoy the lake while charging their cars."
The EV Driven program is designed to benefit the state's environment by reducing auto emissions and supporting Maryland's goal to reach 300,000 zero-emission vehicles on the road by 2025.
Sarah Milbourne, acting western region manager at the Maryland Department of Natural Resources: "A big part of our mission is to save the planet, and supporting infrastructure that can help reduce our carbon footprint is critical to us. To see companies, like Potomac Edison, embrace the things that will help us reach our environmental goals is really exciting."
Through EV Driven, Potomac Edison also offers incentives such as residential rebates for purchasing and installing a qualified smart Level 2 EV charging station. In addition, by enrolling in the EV-Only TOU rate offer, EV users can save 2 cents per kWh hour off the Electric Supply Charge for charging during off-peak hours.
Potomac Edison serves about 285,000 customers in seven counties in Maryland and 155,000 customers in the Eastern Panhandle of West Virginia. Follow Potomac Edison at potomacedison.com, on Twitter @PotomacEdison, and on Facebook at facebook.com/PotomacEdison.
FirstEnergy is dedicated to integrity, safety, reliability and operational excellence. Its 10 electric distribution companies form one of the nation's largest investor-owned electric systems, serving customers in Ohio, Pennsylvania, New Jersey, West Virginia, Maryland and New York. The company's transmission subsidiaries operate approximately 24,000 miles of transmission lines that connect the Midwest and Mid-Atlantic regions. Follow FirstEnergy online at www.firstenergycorp.com and on Twitter @FirstEnergyCorp.
Editor's Note: Video and soundbites explaining the EV charging station installations are available for download on Flickr.
News Media Contact: Hannah Catlett, (440) 554-5346 or Investor Contact: Irene Prezelj, (330) 384-3859