FirstEnergy to Donate and Plant More Than 3,200 Trees Across New Jersey in 2023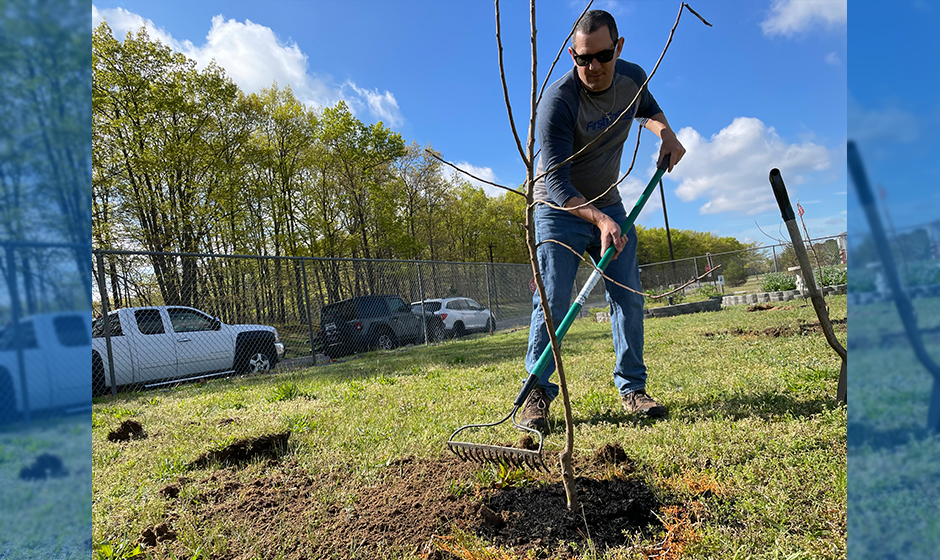 MORRISTOWN, N.J., May 16, 2023 -- Jersey Central Power & Light (JCP&L), a subsidiary of FirstEnergy Corp. (NYSE: FE), is on track to plant more than 3,200 trees donated by FirstEnergy across its New Jersey service area this year, more than double the number of trees donated last year.
Employees of FirstEnergy and JCP&L recently volunteered their time to plant 30 fruit trees that will make up a new food forest at Howell Middle School South in Monmouth County. The trees will be included in science lessons for the sixth-through-eighth graders, and the harvested apples, peaches, pears and nectarines will be donated to a local food bank. Each of the school's approximately 800 students were also provided with an oak sapling to plant at home.

At tree-planting events in March and April, company volunteers planted more than 780 trees in Worthington State Forest in Warren County; 735 trees at the Girl Scouts of the Jersey Shore's Camp Sacajawea in Farmingdale, Monmouth County; and 350 trees at the Hunterdon Land Trust in Flemington, Hunterdon County. Working with the Manalapan Township Shade Tree Committee, JCP&L and FirstEnergy also gave 100 trees to students at Milford Brook Elementary School. Additional events are being planned for the fall.
Since April 2021, FirstEnergy has donated and planted more than 40,000 trees throughout its six-state service territory. This initiative is an important part of the company's efforts to reduce its carbon footprint, promote responsible use of natural resources and further the advancement of sustainable practices.
"Stewardship is a core value at JCP&L, and we are proud of our employees who volunteer their time to plant these trees," said Jim Fakult, president of FirstEnergy's New Jersey operations. "Our communities are great places to live and work, and this initiative is an important way for us to give back and make our towns even more peaceful and beautiful while helping those in need."
FirstEnergy and JCP&L volunteers planted the trees in locations that are safely away from power lines and other utility infrastructure. In addition to the fruit trees, the donated and planted trees include varieties of pine, oak, birch and dogwood that are native to the area.
The volunteers are led by members of JCP&L's Green Team, a group of employees at each of FirstEnergy's ten electric companies that volunteer their time and talents to develop and support environmental initiatives. JCP&L launched FirstEnergy's first Green Team in 2018.
JCP&L's environmental initiatives, including advanced recycling programs, pollinator habitats, the introduction of hybrid bucket trucks and more, have earned the company recognition as the first and only electric utility named to the New Jersey Department of Environmental Protection's Sustainable Business Registry, as well as awards from the N.J. DEP, Commerce and Industry Association of New Jersey and others.
JCP&L serves 1.1 million customers in the counties of Burlington, Essex, Hunterdon, Mercer, Middlesex, Monmouth, Morris, Ocean, Passaic, Somerset, Sussex, Union and Warren. Follow JCP&L on Twitter @JCP_L, on Facebook at www.facebook.com/JCPandL or online at www.jcp-l.com.
FirstEnergy is dedicated to integrity, safety, reliability and operational excellence. Its 10 electric distribution companies form one of the nation's largest investor-owned electric systems, serving customers in Ohio, Pennsylvania, New Jersey, West Virginia, Maryland and New York. The company's transmission subsidiaries operate approximately 24,000 miles of transmission lines that connect the Midwest and Mid-Atlantic regions. Follow FirstEnergy on Twitter @FirstEnergyCorp or online at www.firstenergycorp.com.
Editor's Note: Photos of JCP&L employees planting trees are available for download on Flickr.
News Media Contact: Chris Hoenig, (609) 350-8599 or Irene Prezelj, (330) 384-3859