FirstEnergy Earns 2023 Military Friendly® Company Award
Honor from national military support organization recognizes workplace and supplier diversity opportunities for veterans and their families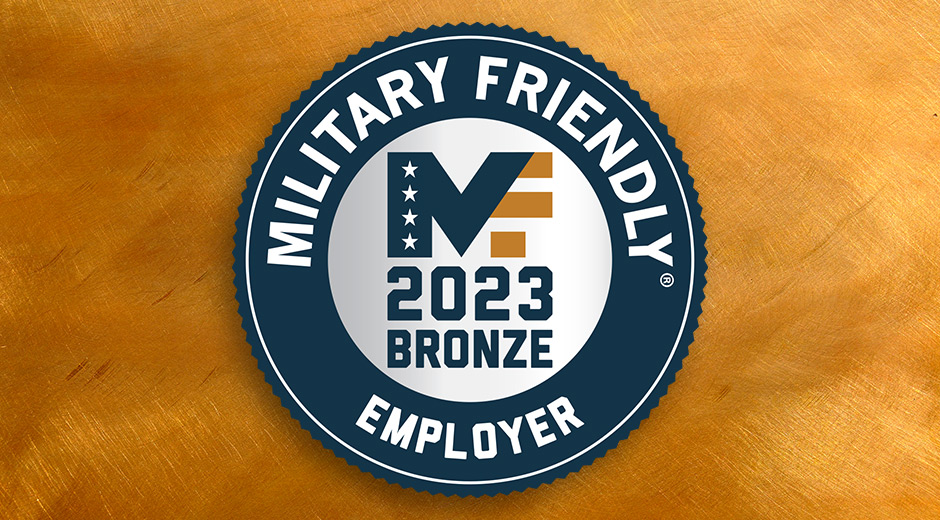 AKRON, Ohio, Feb. 1, 2023 -- For the eighth year in a row, FirstEnergy Corp. (NYSE: FE) has been designated as a Military Friendly® Company by Military Friendly, a national organization supporting the U.S. military and its veterans.
In Military Friendly's 2023 survey, published annually by G.I. Jobs magazine, FirstEnergy received three awards: bronze recognition as a 2023 Military Friendly Employer, designation as a 2023 Military Spouse Friendly Employer and ninth on the list of 2023 Top Ten Military Friendly Supplier Diversity Programs. The awards recognize FirstEnergy's recruitment, hiring, training and development practices for veterans and their families.

"We believe military veterans possess unique skills and experiences that make them highly-qualified candidates for a number of opportunities with our company, and we reward those skills and the discipline developed in the service through a comprehensive compensation and benefits program," said Christine L. Walker, FirstEnergy's senior vice president, chief human resources officer and Corporate Services. "On behalf of the nearly 950 past and present service members of the United States' armed forces that are employed by FirstEnergy, we are honored and grateful for this recognition from Military Friendly."
This is the 13th Military Friendly Employer award for FirstEnergy in the past 14 years and the second consecutive year being named as a Supplier Diversity award winner. FirstEnergy has also received past recognition from U.S. Veterans magazine as a Top Veteran-Friendly Company and Top Supplier Diversity Program.
In addition to the company's support of its veterans through recruitment, hiring, development and comprehensive benefits packages (including active-duty benefits), FirstEnergy's employees have established a companywide Veterans and Allies Employee Business Resource Group (EBRG) with several local chapters to positively influence veterans both inside and outside the company. Since its inception, Veterans and Allies has raised over $100,000 for organizations that support active military and veterans, organized donation events for active military members overseas and veterans at local veterans' hospitals and volunteered with many organizations that directly and indirectly impact veterans.
For more on FirstEnergy's commitment to active-duty and military veterans, visit https://www.firstenergycorp.com/careers/military.html.
FirstEnergy is dedicated to integrity, safety, reliability and operational excellence. Its 10 electric distribution companies form one of the nation's largest investor-owned electric systems, serving customers in Ohio, Pennsylvania, New Jersey, West Virginia, Maryland and New York. The company's transmission subsidiaries operate approximately 24,000 miles of transmission lines that connect the Midwest and Mid-Atlantic regions. Follow FirstEnergy on Twitter @FirstEnergyCorp or online at www.firstenergycorp.com.
CONTACT: Chris Hoenig, (609) 350-8599, or Investor Relations Contact: Irene Prezelj, (330) 384-3859