JCP&L's Storm Restoration Doesn't Stop When the Lights Are Back On
Volunteers with JCP&L's Green Team take opportunity to restore the environment after tornadoes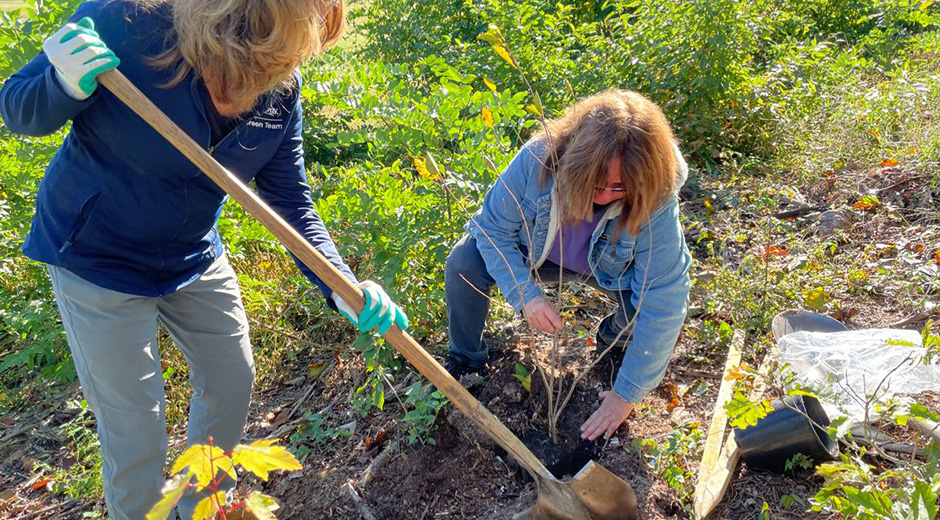 Following a series of devastating tornadoes that struck Monmouth and Ocean counties on April 1, JCP&L swiftly restored power to over 20,000 affected customers within three days. For the volunteers of JCP&L's Green Team, storm work didn't stop when the lights were back on.
Six months later, on Oct. 13, the dedicated volunteers from various roles within the company embarked on a mission to rejuvenate the environment. They planted more than a dozen trees, generously provided by JCP&L's parent company FirstEnergy, at Howell's Aldrich Elementary School to replace the vegetation that was damaged last spring.
So far this year, the company has planted more than 10,000 trees across its central and northern New Jersey territory. Tree plantings and giveaways support FirstEnergy's efforts to reduce its carbon footprint, promote the responsible use of natural resources and further the advancement of sustainable practices. 
Learn more about FirstEnergy's environmental initiatives at www.firstenergycorp.com/environmental
Working along a hillside near what was once the school's baseball field backstop (also destroyed in the tornado), the JCP&L volunteers rooted redbuds, white oaks, red maples and black chokeberries of varying sizes. At the base of the hill, students looked on, getting a lesson in how these trees will grow into strong, mature timber.
"The tornado that came through here was violent and completely decimated the hillside. But as this is an area away from power lines, it makes the perfect location to kickstart regrowth and restore the environment to what it was before the storms," said Ray Vender, distribution vegetation management support and lead of JCP&L's Green Team tree program.
In addition to the planted trees, FirstEnergy donated an additional 100 white oak, hornbeam, redbud, black chokeberry and witch hazel seedlings to the school's fourth grade students to take and plant at home.
"These students were here last year as third graders, so they saw the damage first-hand and remember what the tornado did to those trees," said Drew Smith, principal at Aldrich Elementary School. "Now, they get a great science lesson in how important trees are to the environment and can be a part of seeing the regrowth here and at home."
JCP&L launched FirstEnergy's first Green Team in 2018. The company's environmental initiatives –including advanced recycling programs, pollinator habitats, the introduction of hybrid bucket trucks and more – have earned the company recognition as the first and only electric utility named to the New Jersey Department of Environmental Protection (DEP) Sustainable Business Registry, as well as awards from the N.J. DEP, Commerce and Industry Association of New Jersey and others.
MEDIA CONTACT: Chris Hoenig, (609) 350-8599