FirstEnergy Foundation supports wheelchair-accessible camp coming to northeast Ohio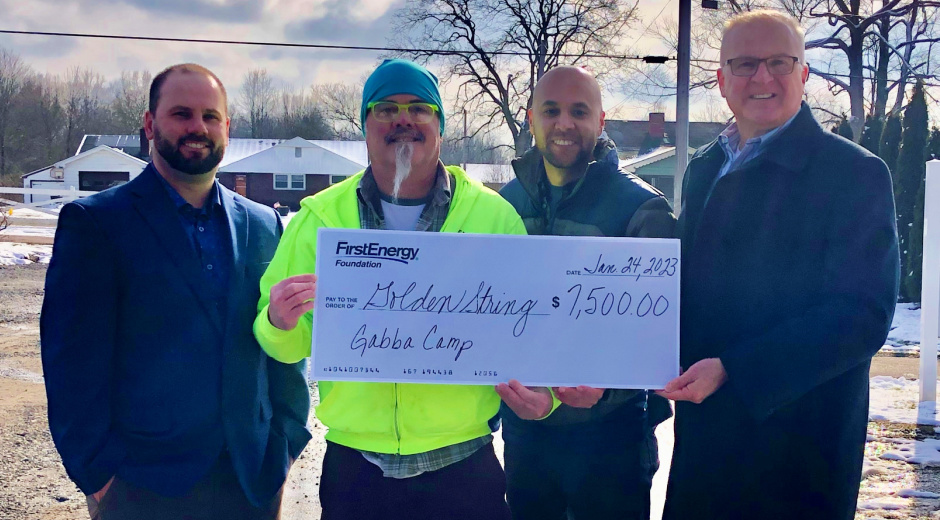 Too often, individuals with intellectual, developmental and physical disabilities miss out on recreational activities, like fishing or camping, due to inaccessibility issues or other barriers.
Youngstown, Ohio-based nonprofit Golden String Inc., located within FirstEnergy's Ohio Edison service area, continues to break down obstacles these individuals and their loved ones sometimes face by providing fun activities and transportation for people of all ages with disabilities. 

Their latest venture is the creation of GabbaCamp in Coitsville Township, Mahoning County. When completed this summer, GabbaCamp will be a full-service camp for adults with disabilities such as autism, cerebral palsy, Down syndrome and traumatic brain injury. The camp will allow visitors to explore 33-acres of green space and include special amenities like handicapped-accessible cabins and facilities – the first of its kind in the Mahoning and Shenango valleys.

"A recent $7,500 donation from the FirstEnergy Foundation, along with contributions from local businesses and federal programs, will allow us to soon offer activities like swimming, equine therapy and nature activities to individuals with special needs, including those in wheelchairs," said Jimmy Sutman, director of operations at Golden String. "Thanks to the generosity of companies like FirstEnergy, we will soon provide clients with a fun getaway and a twist in their normal schedules and routines."

The organization's priority was to install a wheelchair path around the property's lake, which takes pedestrians on a scenic trip through the woods. This is something, Sutman says, that has never been experienced by many people using a wheelchair.

"FirstEnergy is made up of a diverse team of employees committed to making our customers' lives brighter and our communities stronger, and these core values are reflected in the work Golden String provides to the community each day," said Troy Rhoades, external affairs consultant for FirstEnergy's greater Youngstown service area, during a recent check presentation on Jan. 24.

The FirstEnergy Foundation has been a staunch supporter of organizations that benefit the special needs community across the Mahoning Valley, collectively gifting more than $100,000 to various local organizations in 2022.

In addition to the FirstEnergy Foundation's support of organizations in greater Youngstown, since 2020, the Foundation has donated $7 million to nearly 200 organizations across its six-state service territory as part of an  "Investing with Purpose" initiative. The funds support organizations that advance health and safety, workforce development, educational and social justice initiatives. 

To learn more about FirstEnergy's community involvement initiatives, visit www.firstenergycorp.com/community. 
MEDIA CONTACT: Lauren Siburkis, (330) 203-8850