FirstEnergy Career Comes Full Circle for Penn Power Operations Manager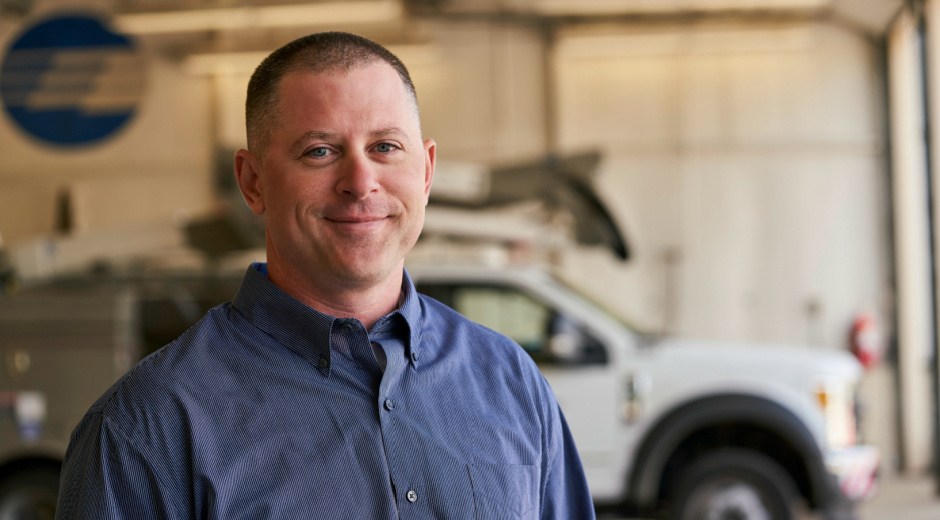 In 1999, Jeff Doran had just graduated from high school and planned to join the U.S. Air Force to fulfill his dream of becoming a pilot. 
Shortly after starting the enrollment process with an Air Force recruiter, Doran's plans were derailed when a medical screening revealed he had asthma. He was no longer able to move forward in the process. 
Over the next few years, Doran attended college and played football, but he still was unsure what his future career path would hold. 
One thing was for certain: He did not want to sit behind a desk for 10 hours a day. Instead, Doran preferred working with his hands, being outdoors and troubleshooting problems. 
When he saw an ad in the newspaper about an Ohio Edison line worker job available in the Youngstown area, he called to learn more about the role and apply for it. 
Ohio Edison leadership at the time approached him with an offer to join FirstEnergy's Power Systems Institute (PSI) – a new program they were eager to launch to train future generations of line workers and substation electricians. Doran would be the first student. 
"That was the best decision I could have ever made for myself because I've had an extremely rewarding career that has provided well for me and my family," said Doran, who spent 15 years as a line worker at Ohio Edison's sister utility, The Illuminating Company, before he became a line operations manager at Penn Power in 2018. 
Now in its 20th year, PSI has helped more than 2,000 graduates, like Doran, take their careers in the electric utility industry to new heights. The program helps fill important fieldwork positions within FirstEnergy's 10 electric companies in Ohio, Pennsylvania, New Jersey, Maryland and West Virginia. 
PSI is a unique, two-year program that combines classroom learning with the hands-on training needed to open the door to opportunities in the electric industry. Students who successfully complete the program earn an associate degree from an affiliated community college in their area. 
The PSI curriculum requires two-and-a-half days each week spent at a community college completing academic coursework, with the remainder of the week spent at a FirstEnergy utility training facility to focus on safe work practices and procedures in the electrical environment.  
"My career has come full circle because I am now the one hiring PSI graduates once they complete the program," said Doran. "I know firsthand the hard work and sacrifices that go into completing the program, and it's a great feeling to bring these talented men and women on board our team." 
This year, FirstEnergy's electric companies have hired 189 new PSI graduates. 
Ohio Edison, nine new hires 

The Illuminating Company, 17 new hires 
Penn Power, three new hires 

West Penn Power, 30 new hires 

Penelec, 28 new hires 

Met-Ed, 33 new hires 

JCP&L, 36 new hires 
Potomac Edison, 15 new hires 

Mon Power, 18 new hires 
 "We welcome these graduates into our workforce as they help our electric companies continue to provide safe and reliable electric service for our customers," said Sam Belcher, senior vice president and president of FirstEnergy Utilities. 
For information about how to enroll in the PSI program, call 1-800-829-6801, or go to www.firstenergycorp.com/psi. 
CONTACT: Lauren Siburkis, (330) 203-8850 and Eyad Gheith, (330) 612-1746 (PSI Program)