Tree Maintenance Practices
Why We Prune Trees
To provide safe and reliable electric service for our customers, trees must be properly maintained and kept clear of electric power lines.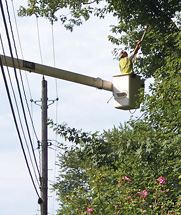 Trees are a leading cause of electrical power outages. In fact when trees and power lines touch it creates a very dangerous situation that may even be deadly to anyone in close proximity.

To help maintain safe, reliable electric service, FirstEnergy's Vegetation Management Program controls trees, shrubs and brush growing around our facilities and equipment - including power lines. Every four years or so, trained, qualified line clearance experts visit your neighborhood looking for trees that may come in contact with electrical conductors.
If a tree needs pruning, the property owner is notified - either in person or through a door card - before work is started. An approximate time frame for completion of the work is noted on the card.
Immature trees and other forms of vegetation that potentially might come in contact with electric lines are removed as well. Vines growing on poles, guy wires or other equipment are cut near the ground. Low growing shrubs and ornamental trees are usually left undisturbed unless they hinder access to power lines or facilities.
How Trees are Pruned
Tree care professionals under contract to FirstEnergy use "directional" pruning techniques. These techniques were developed by the National Arborist Association and are published by the American National Standards Institute (ANSI). Directional pruning is the accepted industry standard endorsed and promoted by the National Arbor Day Foundation and the International Society of Arboriculture.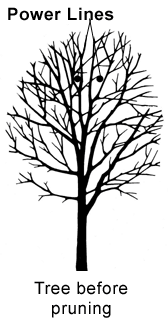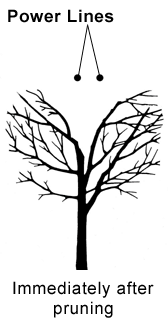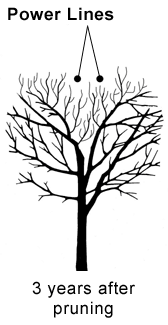 Directional pruning removes entire branches and limbs back to the main trunk of the tree, where trees normally shed them. In this way, future tree growth is directed away from power lines and weakly attached re-growth is minimized. Directional pruning takes advantage of strong points in the tree's structure. Branches growing away from electric lines or facilities are usually left undisturbed. Directional pruning does not harm the tree's natural defense systems and other natural processes that protect the tree from decay and aggressive re-sprouting.
Before branches growing near electric lines are removed, pruning crews evaluate a tree's structure and growth patterns. Crews also consider the tree species, growth rates common to our service area, proximity to electric lines and the height and voltage of the lines.

Benefits of directionally pruned trees

Directionally pruned trees may look odd at first. In the long run, however, such trees are less susceptible to pest and decay problems and less likely to drop branches and cause damage during storms. In fact, compared to other methods such as topping, stubbing or pollarding, directional pruning is better for the protection of the tree's health.
Why Some Trees Are Removed
To provide adequate clearance around distribution power lines, some trees require more pruning than others. If a tree cannot be pruned effectively without significantly impacting its health or shape, it should be removed. Trees that present a danger or are diseased may also be removed. More information about our vegetation management practices for distribution lines, including tips for homeowners, can be found in this brochure.
On transmission right-of-ways, clearing, rather than pruning, established trees from the right-of-way reflects our continuing commitment to maintaining safe and reliable electric service to all of our customers. So long as they do not obstruct safe access, some low-growing shrubs are allowed to remain in the transmission corridor and provide a viable habitat for wildlife. Additional information about vegetation management practices and maintaining a safe and reliable transmission system can be found here.
In cases of tree removal, the property owner is notified in person or in writing before the work is done.
Maintaining Trees and Vegetation with Herbicides
Years of experience and study show that the safest and most efficient way to keep electric rights-of-way clear of trees and vegetation is through the careful use of herbicides. FirstEnergy uses a selective herbicide program that assures safe and easy access for our service and maintenance needs while preserving natural surroundings - including wildlife habitat - for all to enjoy.
With less competition for moisture, sunlight and nutrients, a meadow-like setting filled with beneficial grasses and wildflowers thrives. Studies show this actually enhances wildlife habitat by promoting grasses, low growing shrubs and other ground cover preferred by birds, deer and other small animals.
Safe for people and animals

The herbicides FirstEnergy uses work on enzymes found only within plants, not people or animals. These compounds enter through leaves and stems to control the plant from the inside. What's more, the products we use have undergone years of testing. The EPA registers such products for use only after determining they will not adversely affect people, animals or the environment when properly applied.

Certified applicators

FirstEnergy requires crews that apply herbicides to follow strict usage guidelines. Workers who apply herbicides must be trained and work under the direct supervision of a certified applicator. Furthermore, they must conform to all state and federal laws.
Emerald Ash Borer
The emerald ash borer (Agrilus planipennis) is a destructive wood-boring pest of ash trees (Fraxinus spp.). Native to China, Mongolia, North Korea, South Korea, Japan, Taiwan, and the Russian Far East, the emerald ash borer beetle (EAB) was unknown in North America until its discovery in southeast Michigan in 2002. Today, EAB infestations have been detected in 25 states; Arkansas, Colorado, Connecticut, Georgia, Illinois, Indiana, Iowa, Kansas, Kentucky, Louisiana, Maryland, Massachusetts, Michigan, Minnesota, Missouri, New Hampshire, New Jersey, New York, North Carolina, Ohio, Pennsylvania, Tennessee, Virginia, West Virginia, and Wisconsin.
EAB is a significant threat to our urban, suburban, and rural forests as it kills stressed and healthy ash trees. EAB is so aggressive that ash trees may die within two or three years after they become infested.
Symptoms of an infestation may include any or all of the following: dead branches near the top of a tree, leafy shoots sprouting from the trunk, bark splits exposing larval galleries, extensive woodpecker activity, and D-shaped exit holes.
FirstEnergy has been managing the effects of the EAB since 2003 when it was first detected in Ohio. Every FirstEnergy operating company has now been infested to some degree by the EAB.
Much has been learned about this pest and new information becomes available from many sources. To best serve our customers, we believe that the best source of information for reference is the USDA APHIS website*, which is continually updated with new information.
Nationally Recognized Practices
For eighteen consecutive years, FirstEnergy has been recognized as a Tree Line USA utility by the National Arbor Day Foundation, in cooperation with the National Association of State Foresters.
The awards recognize the tree care programs run by FirstEnergy's 10 electric utility companies in Ohio, Pennsylvania, New Jersey, West Virginia and Maryland. The Tree Line USA program honors investor-owned and public utility companies that strive to promote the dual goals of dependable utility service and abundant, healthy trees along America's streets and highways. To achieve the Tree Line USA designation, companies must meet five program standards:
Follow industry criteria for quality tree care
Provide annual training for employees in best tree-care practices
Sponsor tree-planting and public education programs on appropriate plantings
Maintain a tree-based energy conservation program
Participate in Arbor Day events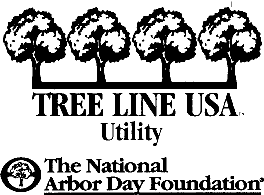 Vegetation Management Contractors
We carry out the Vegetation Management Program with the assistance and expertise of contracted tree care professionals. All of our contractors are required to follow overhead line clearance guidelines and specifications developed by our Forestry Staff to ensure proper, professional service. Vegetation management contractors include:
ACRT Inc.
Aerial Solutions Inc.
Arbor Metrics Solutions Inc.
Aspen Tree Expert Co.
Asplundh Tree Expert LLC.
Chesapeake Bay Helicopters Inc.
CN Utility Consulting Inc.
Davey Resource Group
Energy Group Inc.
Environmental Consultants Inc.
FWT LLC.
Geodigital International Corp.
GF Tree Service LLC.
Gunnison Tree Services LLC.
Haverfield Corp.
Hazlett Tree Service
Heloair Inc.
Industrial Helicopters LLC.
Innovative Environmental Solutions
Integrity Tree Services LLC.
Jaflo Inc.
Lewis Tree Service Inc.
Midwest Land Clearing Inc.
NG Gilbert Services LLC.
Nelson Tree Service Inc.
Nutrien AG Solutions Inc.
Osmose Utilities Services Inc.
Penn Line Services Inc.
Pittmans Tree & Landscaping Inc.
Progressive Solutions LLC.
Southeast Woodland Services
Townsend Corp.
Treesmiths Inc.
UFL Inc.
USIC Locating Services Inc.
Utiliquest LLC.
Utilities Forestry Services Inc.
Utility Arborist LLC.
Wright Tree Service Inc.
Xylem Inc.
York Tree Service Inc.
To confirm whether a contractor is working for us, call our Contact Center.
Still need help?
Contact us with your questions.