FirstEnergy Donates, Plants Nearly 700 Trees in Mercer County to Celebrate Earth and Arbor Days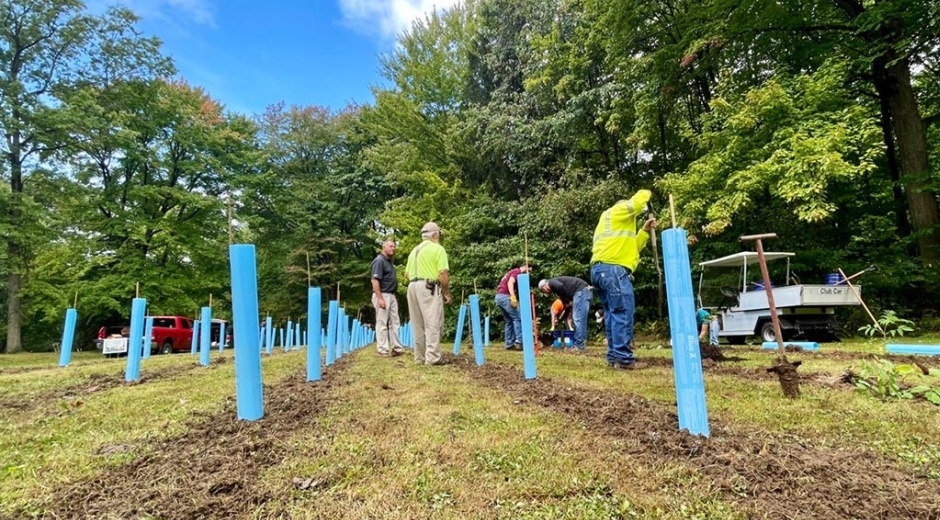 NEW CASTLE, Pa., May 2, 2023 -- In celebration of Earth and Arbor Days, FirstEnergy Corp. (NYSE: FE) has donated nearly 700 trees to organizations in Mercer County, Pennsylvania. With the goal of restoring forested habitat within the community, employee volunteers of FirstEnergy and its subsidiary Penn Power recently planted 450 trees at the Custaloga Town Scout Reservation, 150 trees at Buhl Park and 100 trees throughout the Hermitage School District.
This year's donation of trees to organizations in Mercer County complement FirstEnergy's donation of more than 1,000 trees planted at Buhl Park and other locations in recent years. Since April 2021, FirstEnergy has donated and planted more than 40,000 trees throughout its six-state service territory. This initiative is an important part of the company's efforts to reduce its carbon footprint, promote responsible use of natural resources and further the advancement of sustainable practices.

Led by FirstEnergy's Green Team in western Pennsylvania, these tree-planting events are one of several projects employees will complete this year to help nearby parks, nature preserves and communities across FirstEnergy's entire footprint.
"FirstEnergy contributed the funds to cover the cost of the trees, and more than a dozen employee volunteers spent several hours planting them around the community this month to be enjoyed by the public and many of our local employees and their families," said Jessica Shaffer, environmental scientist and Green Team leader at FirstEnergy.
FirstEnergy's 10 Green Teams consist of employees from Ohio, Pennsylvania, New Jersey, Maryland and West Virginia who volunteer their time and talents to support a wide variety of environmental initiatives. The groups plan to continue to partner with state park systems, watershed and recycling groups, garden clubs, schools and other environmentally focused organizations in the future to support FirstEnergy's commitment to building a brighter and more sustainable future.
"These trees will help restore forested habitat within the park that we've lost over the years, and we look forward to monitoring the trees and helping them along as they mature," said Ryan Voisey, director of operations at Buhl Park. "We appreciate FirstEnergy and Penn Power's ongoing commitment to preserving our local parks and forests."
For more information about FirstEnergy's environmental and corporate responsibility efforts, please visit www.fecorporateresponsibility.com.
Editor's Note: Photos of FirstEnergy employees planting the trees in Mercer County are available for download on Flickr. Video/B-Roll footage from previous tree-planting event can be viewed here.
News Media Contact: Lauren Siburkis, (330) 203-8850 or Investor Contact: Irene Prezel, (330) 384-3859