Case Western Reserve University Provides 'Lifelong Smiles' to Underserved Seniors in FirstEnergy's Northeast Ohio Service Area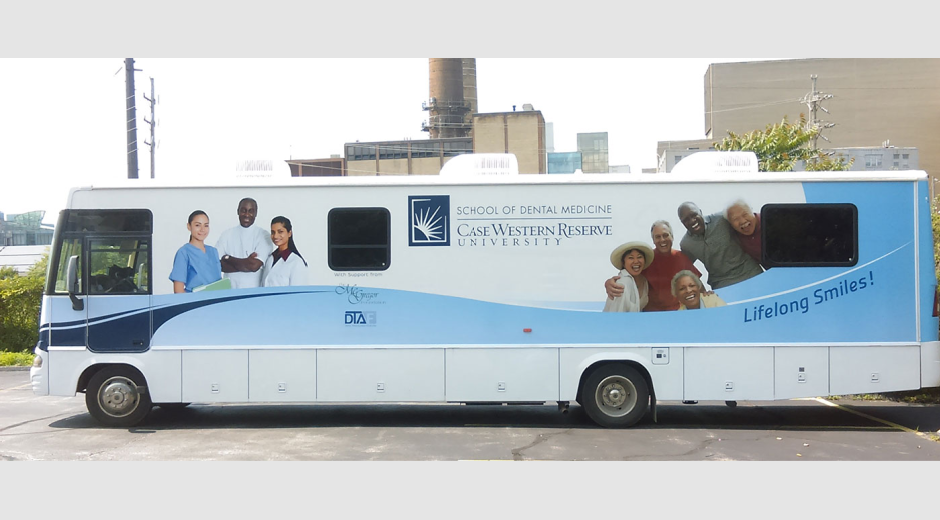 FirstEnergy is privileged to serve more than six million customers across its service area, spanning from Ohio to the Jersey Shore. Nestled in each community are hundreds of unique stories about the residents, businesses and organizations we serve. We provide them with the power and support they depend on each day to continue making a difference in their local communities, and we look forward to sharing their stories with you. 
For retiree and military veteran Amos Renix, dental work had taken a back seat in his early senior years because he was unable to secure sufficient insurance coverage. 

Today, Renix is among more than 250 Cleveland seniors who receive free or discounted dental care through Case Western Reserve University's mobile geriatric dentistry program, "Lifelong Smiles." The program is run by the School of Dental Medicine at Case Western Reserve University, which is located within FirstEnergy's northeast Ohio service territory.  

Launched in 2015, Lifelong Smiles helps address the disparity in care for Cleveland-area seniors by providing direct access to dental care for those who lack transportation or private insurance for oral health care. At the same time, the next generation of dentists receive hands-on training treating the needs of older adults. A $100,000 FirstEnergy Foundation grant, presented through its "Investing with Purpose" initiative, will help expand the services offered by the program to improve the health and wellbeing of underserved seniors in northeast Ohio.  

Lifelong Smiles' 38-foot mobile dental van resembles an RV that has been converted into a high-tech dental office on wheels featuring fully functioning dental chair stations, office space, digital X-rays and a wheelchair lift, with the capacity to treat two patients at a time. It is run by third- and fourth-year dental students who have a clinical geriatric rotation in which they provide dental care, assess patients and discuss overall treatment plans with students of medicine, nursing, pharmacy and social work at Case Western Reserve. 

For Renix, this mobile dental program is life-changing because it provides him with affordable, quality health care without having to leave his senior housing development. 

"Before this program came along, it had been quite a while since I had been to the dentist," he said. "I haven't had this much dental care since I was a child and I'm grateful for supporters of this program, like the FirstEnergy Foundation." 

Many seniors, like Renix, find it difficult to visit the dentist for a number of reasons and the mobile program provides them direct access to affordable oral care, said Suparna Mahalaha, assistant professor of community dentistry and director of Case Western Reserve University's geriatric dental program. 

"These seniors are so appreciative of the services we provide," she said. "What we offer them, they give back to our students ten-fold with lessons in hands-on care and compassion." 

The FirstEnergy Foundation focuses contributions in areas that drive meaningful change in the communities served by FirstEnergy's electric companies.

"The Lifelong Smiles program reflects FirstEnergy's core values of diversity, equity and inclusion and stewardship, and we're honored to support this program that benefits so many local seniors and health care professionals in training," said Lorna Wisham, president of the FirstEnergy Foundation. 

In addition to the FirstEnergy Foundation's support of Lifelong Smiles, the Foundation has collectively gifted $7 million to nearly 200 nonprofit organizations making a difference in the communities served by FirstEnergy's 10 electric companies. The funds, which were distributed in two rounds in 2020 and 2022, support organizations that advance health and safety, workforce development, educational and social justice initiatives.  

The "Investing with Purpose" initiative represents an additional commitment on top of the company's annual charitable giving, which averages approximately $10 million per year. To learn more about FirstEnergy's community involvement initiatives, visit www.firstenergycorp.com/community. 

MEDIA CONTACT: Lauren Siburkis, (330) 203-8850