West Penn Power Green Team Joins Jeanette Greenspaces to Celebrate Earth Day with Tree Giveaway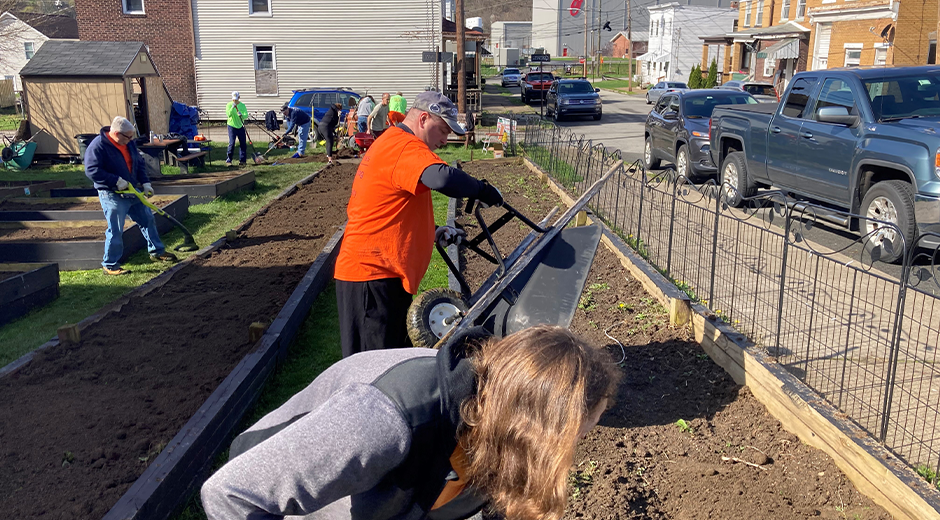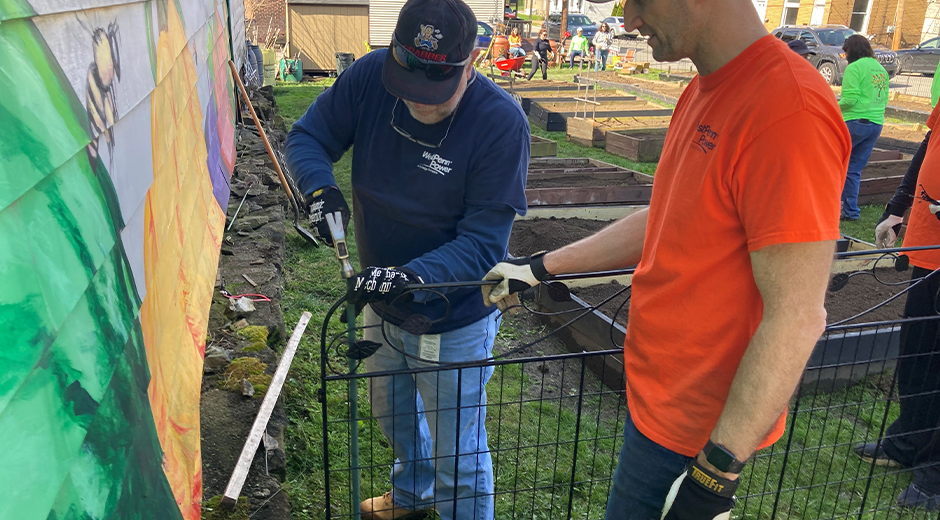 Clyde Bittner trotted uphill past the raised vegetable beds in the Jeanette Greenspaces community garden toward a transit bus idling at the corner, clutching a dogwood tree sapling in his right hand

"He's giving it to the bus driver," said his wife, Lucy Bittner, vice president of Jeanette Greenspaces, a nonprofit organization that rents garden plots on the corner of South Seventh and Clay streets in Jeanette, Pennsylvania, for a nominal fee to city residents without space to grow fresh vegetables.
One free tree down; 299 to go.
Three hours later, the West Penn Power Green Team – a group of employees that volunteer their time and talents to support environmental initiatives – handed out the last white flowering dogwood sapling, concluding the April 22 Earth Day tree giveaway. The successful event will help West Penn Power parent FirstEnergy Corp. realize an ambitious goal to plant 20,000 trees throughout its six-state service territory in 2022.
FirstEnergy donated the trees for the event as part of the company's ongoing efforts to reduce its carbon footprint, promote responsible use of natural resources and advance sustainable practices. Since April 2021, FirstEnergy has donated and planted more than 17,000 trees throughout its service territory.
"Trees provide an array of important benefits, including carbon absorption, soaking up storm water that can cause erosion and preserving stream and riverbanks," said George Farrah, vice president of FirstEnergy Utility Services, who pitched in for the day with the West Penn Power Green Team. "It was nice to volunteer today to help beautify the community."
Readying the Greenspace Gardens
In addition to giving away trees, about a dozen Green Team volunteers tended to the 20 raised garden beds at the Greenspaces community garden used by local residents to grow vegetables. Their work included wheelbarrowing load after load of rich soil into the wooden garden boxes, repairing a fence and planting flower bulbs dropped off by a resident.
"It's never looked so good," marveled Lucy Bittner, gazing at the spruced-up gardens.
In mid-May, the Bittners and other Greenspace volunteers will set up a picnic tent to grill hotdogs and offer them to whomever turns out to plant vegetables in their plots or just drops by to see what's happening.
For people who frequent the street-corner oasis, the gardens are more than just a place to get dirt under their fingernails.
"It brings the community together," Clyde Bittner said. "We socialize. People offer advice and tips to grow vegetables. It makes people more self-sufficient. They say, 'Look at the tomato I grew.'"
Donna Bennett, a veteran gardener who lives two doors away and has tended a Greenspaces garden plot for years, looks forward to experimenting with planting okra and some different kitchen herbs this season.
Even those who are not ready to commit to pulling weeds and watering plants can still enjoy a taste of the action.
"We always plant cherry tomatoes right behind the bus stop," Lucy Bittner said. "We tell people to take a few and have a little snack."
CONTACT: Todd Meyers, (724) 838-6650