FirstEnergy Employees and Community Members Help Drive Out Hunger with Drive-thru Donation Event
Olivia Fordham and her family have never had to worry about where their next meal would come from.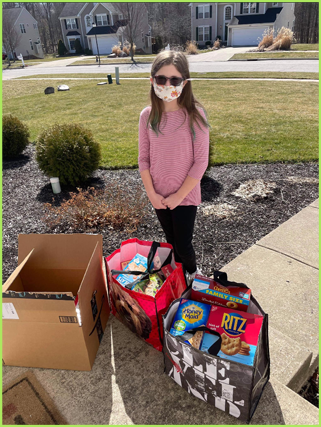 Still, the 13-year-old understands this is a real concern and struggle for many families across northeast Ohio and the entire country. That's why she joined efforts with her neighbors – two FirstEnergy employees – who recently collected items for the company's Pop-the-Trunk food drive at the Akron-Canton Regional Foodbank on April 1.
"I have a heart for helping others," said Fordham, from Streetsboro, Ohio. "When I found out about this opportunity to help the food bank, I told my dad I wanted to use my allowance to buy items that would help my neighbors reach their goal of filling their trunks with food donations."
Olivia's father also matched her funds, which allowed her to donate three large bags filled with some of her favorite snacks and food items.
Fordham is one of many community members that helped 26 FirstEnergy volunteers collect 6,791 pounds of food in Pop-the-Trunk events held at 10 participating food banks in Ohio, Pennsylvania and New Jersey.
As part of the company's annual Harvest for Hunger campaign, Pop-the-Trunk was born out of FirstEnergy's ongoing desire to help families in need during the unprecedented COVID-19 pandemic. The event helped provide essential food and nutrition to those who need it the most in a safe, socially distant manner.
During the event, employees, families, friends and neighbors teamed up to fill their vehicle trunks with nonperishable food items and headed to a participating food bank in their area. Once there, they popped their trunks and FirstEnergy volunteers collected their donations while smiling through masks and showing their appreciation from a safe distance.
"During the COVID-19 crisis, it's been challenging to safely organize fundraisers and donation events," said Lorna Wisham, vice president, Corporate Affairs & Community Involvement. "As the communities we serve need our support now more than ever, we continue to identify ways to help those in need while adhering to COVID-19 safety guidelines."
Food Banks Taking the Wheel
While not a medical symptom of COVID-19, increasing food insecurity is certainly a side effect of the pandemic experienced by many families and food banks across America, which is one of the reasons FirstEnergy employees are lending a hand to local food banks across our service territory.
"Even before the pandemic, there was a high level of food insecurity in our community," said Leslie Genovese, Director of Corporate Relations for the Akron-Canton Regional Foodbank. "During the height of the pandemic, the food bank saw a 31% increase in food insecurity and in those coming to receive assistance."
The Akron-Canton Regional Foodbank is a non-profit food distribution center that provides food and other essential items to hunger-relief programs for families in need in 8 Northeast Ohio counties.
Many of these families are visiting food banks for the first time. And with this increase in need, food banks like the Akron-Canton Regional Foodbank had to rise to the occasion.
"Because of the community support and support from our friends like FirstEnergy, the food bank was able to step up and respond," said Genovese. "We're so grateful for FirstEnergy, their employees, and the community for their continued support."
FirstEnergy's goal of doing its part to help the communities we serve is made easier with the help and the hearts of individuals like Olivia Fordham, who from her home in Streetsboro, proved that you don't need to get behind a wheel to help drive out hunger.
Here is a list of food banks that participated in Pop-the-Trunk events across our service area: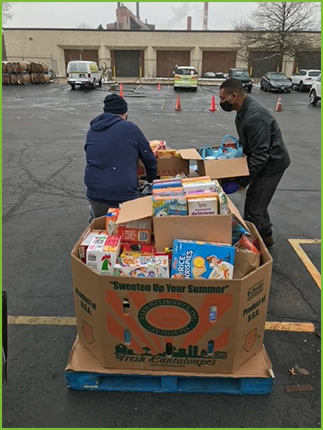 Akron-Canton Regional Foodbank (Akron, Ohio)
Fulfill Foodbank Monmouth County (Neptune, N.J.)
Fulfill Foodbank Ocean County (Toms River, N.J.)
Greater Cleveland Food Bank (Cleveland, Ohio)
Interfaith Food Pantry (Morris Plains, N.J.)
NORWESCAP Food Bank (Phillipsburg, N.J.)
Second Harvest Food Bank of the Mahoning Valley (Youngstown, Ohio)
Toledo Northwest Ohio Foodbank (Toledo, Ohio)
Westmoreland County Food Bank (Delmont, Pa.)
Helping Harvest Food Bank (Reading, Pa.)
CONTACT: Josh Duke, 330-374-6544