Son Follows in Father's Footsteps to Become Line Worker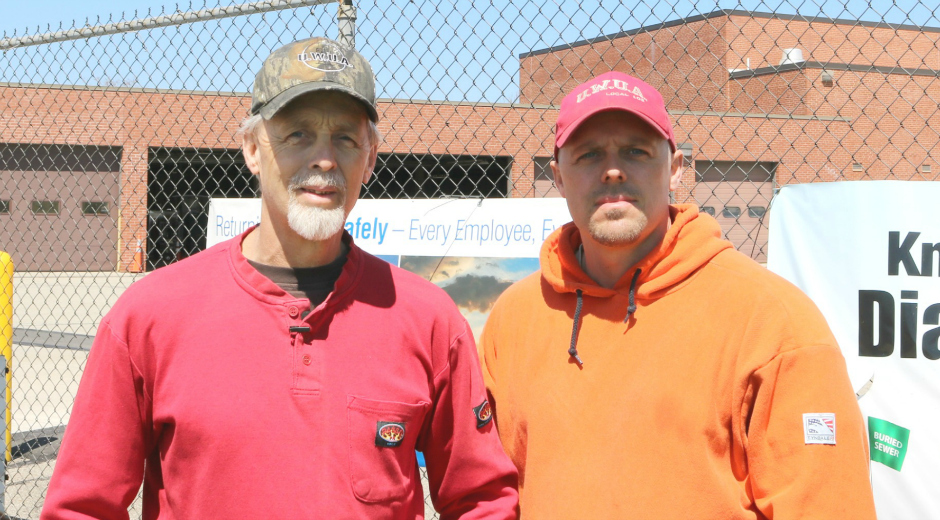 T.J. Hawkins grew up watching his father, Tim Hawkins, come home from a long day on the job as a West Penn Power line worker.
Despite witnessing the sacrifices his father has made for his career – the missed birthday parties and holidays spent in a bucket truck – T.J. admired his father's love of line work, and ultimately followed in his footsteps to become a lineman at West Penn Power seven years ago.
Tim Hawkins began his career with the company in 1987 as a temporary meter reader before securing a permanent position as a line worker the following year. T.J.'s pathway into the company – 25 years later – mirrored that of his father.
Even after nearly 30 years on the job, the senior Hawkins still finds it rewarding to identify and resolve problems and restore power to customers. These days, he works as a troubleshooter in a small service truck and uses the skills and knowledge of electrical equipment he gained as a line worker.
A Day in the Life of a Troubleshooter
When a customer reports an outage, troubleshooters are typically dispatched to start the restoration process. If the troubleshooter identifies a minor equipment issue, he or she will make the repair. If additional work is needed, the troubleshooter will provide a dispatcher with details from the scene to help prepare the line crew that will be sent to the location to restore service.
"As a troubleshooter, I'm primarily focused on identifying whatever service issue a customer experiences," said Hawkins. "Once I determine what needs to be fixed, I send line workers, like T.J., out to do the hard work, so that's fun."
"I'm very proud my son took after me and pursued a career in line work," he said.
A Family Affair
T.J. Hawkins said his decision to become a line worker was an easy one because he values the stability his father's career provided for his family while he grew up. He also finds the work to be rewarding because most people depend on electricity to function at home and in the workplace.
"For me this isn't just a job, it's something that I truly enjoy doing day in and day out," he said. "Each day is filled with adventure and comradery among the line crew, we truly have each other's backs."
MEDIA CONTACT: Lauren Siburkis, (330) 203-8850