JCP&L Welcomes New Line and Substation Employees from Power Systems Institute Training Programs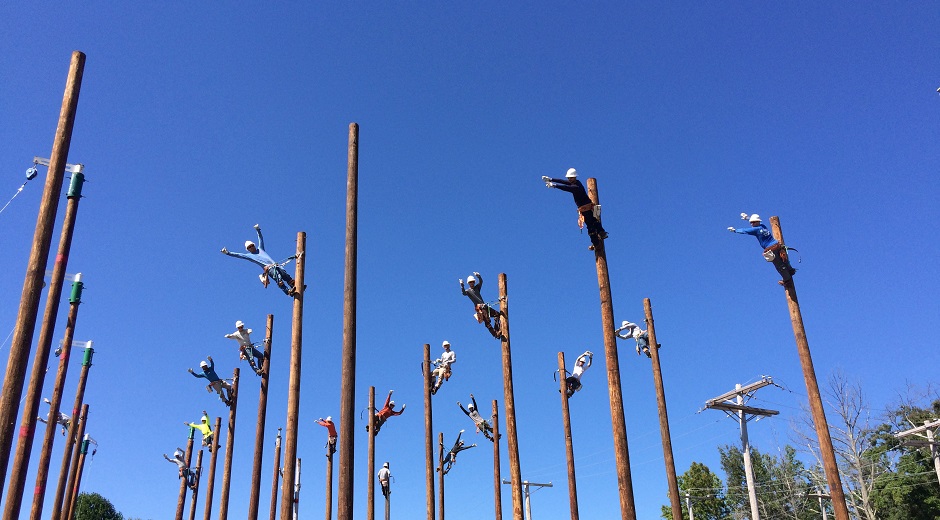 MORRISTOWN, N.J., June 14, 2018 -- Nearly 40 new line and substation workers are joining Jersey Central Power & Light (JCP&L) after completing the company's utility worker training program.
The new employees include 30 line workers and nine substation electricians who are graduates of the Power Systems Institute (PSI) training programs at Brookdale Community College in Lincroft and Raritan Valley Community College in Branchburg.
"The PSI program continues to train and develop the new workers who will help deliver quality service to customers now and in the future," said Jim Fakult, president of JCP&L. "We are pleased to welcome another talented group of graduates to our workforce."
The new lines employees and hometowns are: Nathan Altomare, Oxford; Patrick Barrett, Manasquan; Luke Bender, Milford; James Bulk, Little Egg Harbor; Kristofer Burd, Asbury; Christian Crum, Bayville; Michael Deluco, Parlin; Karl Erikson, Randolph; Steve Fullwood, Oxford; Thomas Hanson, Jackson; Norman Harris III, Hamburg; Joshua Holden, Newton; Patrick Heeney, Point Pleasant; Frank Juba IV, Perrineville; Michael Laskowski, Toms River; Adam Leighton, Bayville; David Machacek, Newton; Brian Maretz, Monroe; Michael Mazzeo, Waretown; Hunter Moneta, Lebanon; Jack Murray, Lebanon; Tyler Nansteel, Bangor, Pa.; Austyn Ruiz, Howell; James Ryan, Howell; Sean Schlosser, Oakhurst; Ryan Seelinger, Hazlet; Jacob Stark, Branchville; Matthew Torre, Bangor, Pa.; John Wallace, Long Valley; and Jason Widdoss, Belvidere.
The new substation employees and hometowns are: Ross Alston, Morristown; Jeffrey Berlly, West Long Branch; Jeremy Carper, Ledgewood; Steven Fetko, Bound Brook; Joseph Kube, Manahawkin; Nicholas Novia, Freehold; Vincent Perro, Freehold; Sean Robinson, Howell and Jared Roesler, Brick.
In addition, three current JCP&L employees also completed the PSI program. They include Dane Edelheiser, Mount Bethel, Pa; Matthew Mantz, Middletown, line; and Daniel Cordi, Matawan, substation.
All the graduates will be assigned to line and substation shops across JCP&L's service area. Their work assignments will rotate as part of the training program.
PSI is an award-winning, two-year educational program originally developed by FirstEnergy in 2000 to help prepare the company's next generation of utility line and substation workers.
PSI students split time between classes at the two colleges and JCP&L training facilities in Farmingdale and Philipsburg. Since the program's inception, FirstEnergy has hired more than 1,300 line and 420 substation personnel who completed PSI programs in Maryland, New Jersey, Ohio, Pennsylvania and West Virginia.
For information about the PSI program, call 1-800-829-6801, or go to www.firstenergycorp.com/psi.
JCP&L, a FirstEnergy Corp. (NYSE: FE) subsidiary, serves 1.1 million New Jersey customers in the counties of Burlington, Essex, Hunterdon, Mercer, Middlesex, Monmouth, Morris, Ocean, Passaic, Somerset, Sussex, Union and Warren. Follow JCP&L on Twitter @JCP_L, on Facebook at www.facebook.com/JCPandL or online at www.jcp-l.com.
FirstEnergy is dedicated to safety, reliability and operational excellence. Its 10 electric distribution companies form one of the nation's largest investor-owned electric systems, serving customers in Ohio, Pennsylvania, New Jersey, West Virginia, Maryland and New York. The company's transmission subsidiaries operate more than 24,000 miles of transmission lines that connect the Midwest and Mid-Atlantic regions. Visit FirstEnergy online at www.firstenergycorp.com and follow on Twitter @FirstEnergyCorp.
Editor's Note: Photos of the FirstEnergy/JCP&L Power Systems Institute training program are available for download on Flickr.
CONTACT: News Media Contact: Ron Morano, (973) 401-8097