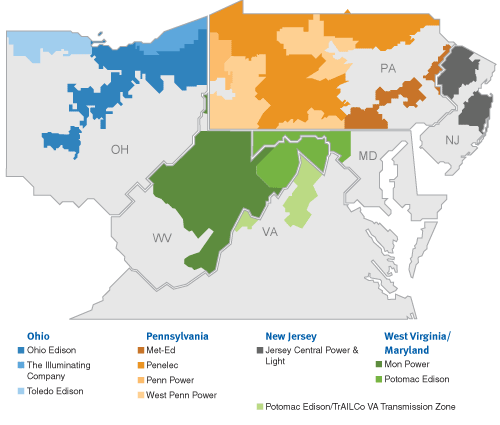 FirstEnergy's service territories cover northern Ohio, most of Pennsylvania, northern New Jersey, eastern West Virginia and western Maryland. The 67,000-square-mile region borders Lake Erie and the Atlantic Coast. New York City, Philadelphia and Columbus, Ohio, lie just outside the area, extending the size of the regional market.

Major highways traversing the region in the east-west direction include I-80 and I-70. North-south routes include I-75, I-77 and I-195, with hubs in Akron and Cleveland, Ohio, and Pittsburgh and Harrisburg, Pennsylvania.

The region is served by FirstEnergy's ten electric utility operating companies, making FirstEnergy one of the nation's largest investor-owned electric system. Learn more about FirstEnergy.

Contact the FirstEnergy Economic Development professionals to explore how we can help make your project a success.